Take your business to the next level with fully integrated unified communications
Elevate is a cloud-based unified communications and collaboration platform that provides you with work-from-home and remote work solutions. It enables users to be more mobile, more productive and share ideas and content through a single system. Whether in the office or remotely, Elevate seamlessly integrates all of your communication tools – business phones, mobiles and computers, into a manageable solution geared to your employees' needs and work styles.

Highly reliable
The Elevate voice network is designed for reliability.
East and West Coast data centers provide redundancy and minimize latency.
Strict pre-qualification guidelines and proprietary VoIP network testing help ensure a reliable connection and crystal-clear voice quality.

Elevate scales according to the needs of any business
Elevate adapts to any business need
Order service according to the number of users or resources needed today; pay only for what is used.
Ordering additional services is easy, and you can get up and running quickly.
Scalable to numerous users per company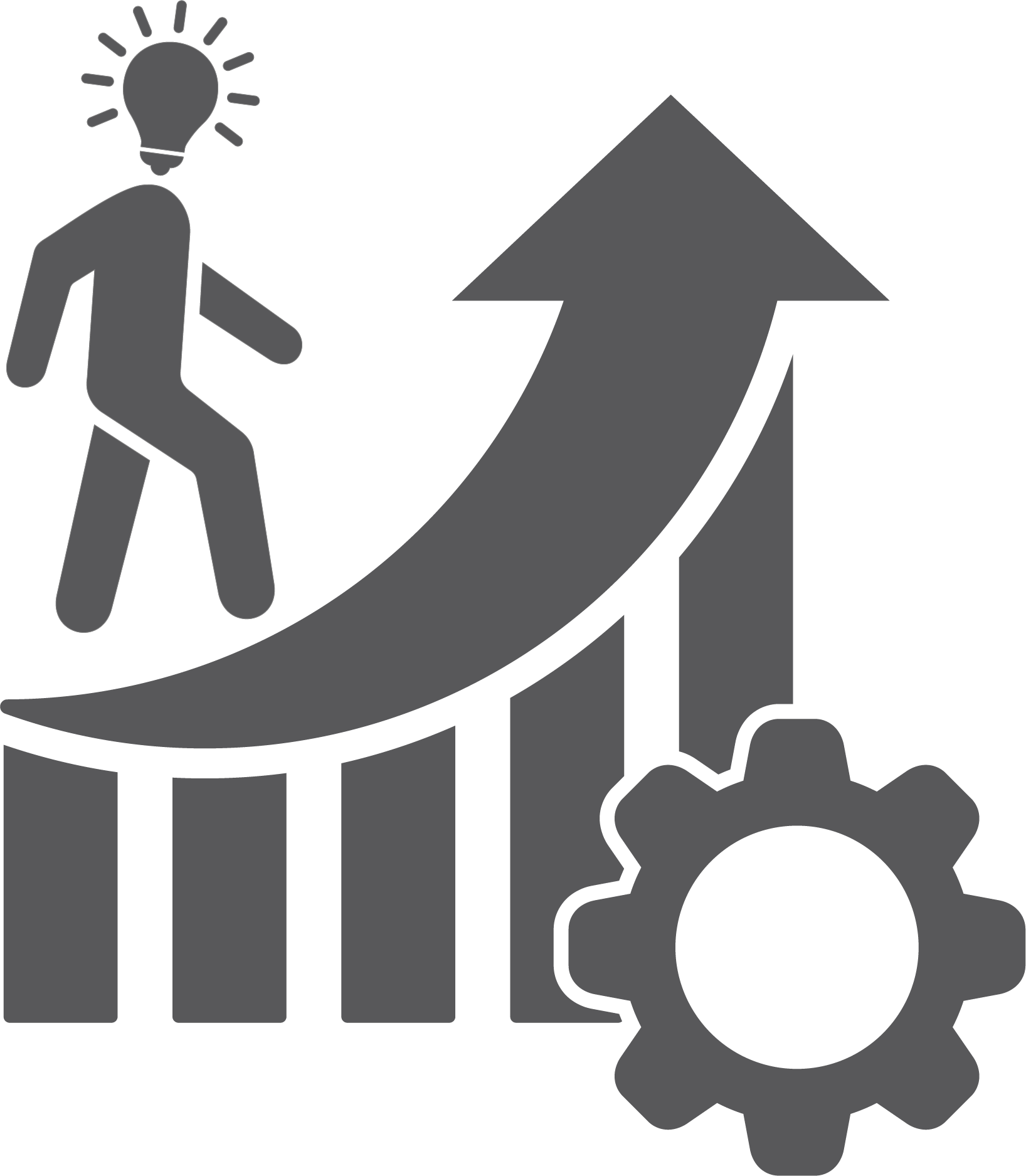 Increased productivity & collaboration
Elevate makes the workforce more productive.
Allows mobile devices to interact seamlessly with the corporate phone system
Anywhere, anytime, on any device, creating a more flexible workforce
Transcribes voice messages to text and/or email, enabling more efficient voicemail management.
Integrated chat, SMS, video conferencing, screen sharing, file sharing and backup extend reach and facilitate greater collaboration.

Business continuity
Ensure you never miss an important business call.
Elevate mobile app has full business phones functionality to be used in the event desk phones are unavailable
Cloud-based systems are immune to local outages. Elevate will test all the user's devices and then dial phone numbers such as cell phones, hunt groups or other auto attendants.

Lower cost
No hardware to buy, install, manage, upgrade or replace.
Lower infrastructure and operational costs compared to traditional telephone service
Reduces infrastructure and operating costs; no additional hardware to purchase
Consolidates voice and data on a single network
Flat per-user rates with unlimited national, local and long distance calls.
DESKTOP PHONES FOR UNIFIED COMMUNICATIONS
Easy-to-use interfaces, great audio quality and productivity features.

The phones are pre-programmed to work seamlessly with Elevate, the

unified communications

platform that provides you with remote work solutions. 

The phones are plug and play and can be used anywhere with an Internet connection.
ELEVATE UNIFIED COMMUNICATIONS – WHAT'S INCLUDED
Local phone number with single extension

Ability to have up to five endpoints

Inbound/outbound caller ID

WebFax

Voicemail with transcription services

Elevate Mobile App & Desktop App 

Online meeting with up to 4 participants (30 with Elevate Pro)

File sharing and backup ShareSync of 2 GB per user (100 Gb per user with Elevate Pro) 
Local phone number with single extension

Ability to have up to five endpoints

Inbound/outbound caller ID 

WebFax
Voicemail box with transcription services

Elevate Mobile App & Desktop App Online meeting with up to 4 participants (30 with Elevate Pro) 

ShareSync file sharing and backup of 2 GB per user (100 Gb per user with Elevate Pro)
ELEVATE UNIFIED COMMUNICATIONS – INCLUDED FEATURES
Voicemail with Transcription
Auto Attendant
Caller ID
Custom Hold Music & Greetings
Direct Inbound Dialing (DID)
Call Flip
Conference Bridge
Hunt Groups
Hunt Group Call Reporting
Email and SMS notifications
Call Forward
Call Hold
Call Recording
Call History
Call Transfer
Call Waiting
3-way Calling
Do Not Disturb
Extension Dialling
Configurable Ring Options
Administrator Password
Named Ring Groups
Page all Phones
Call Park
Inbound Caller Name
Call Flip
Configurable Line Keys
Speakerphone
On-Hook Dialling
Remote Line Key
ELEVATE PRODUCTIVITY FEATURES | UNIFIED COMMUNICATIONS
Elevate Desktop Application
The Elevate Desktop application brings together essential collaboration tools, so employees can send and receive chats and SMS messages, make and receive calls, share screens, initiate video calls and share files, all from a single application.
Have the flexibility to use your desktop application to make and receive calls in two ways: as a call controller for your partner

business phones,

or as a softphone from your Mac® or PC. 

One place to view co-workers' availability, make a phone call, initiate a team chat, send text messages and initiate a video conference.

With Elevate desktop and mobile apps, you can take your contacts, files and conversations with you, wherever you are.
This powerful app transforms your phone into an essential collaboration tool, making on-the-go teamwork easier than ever. See who's available, send and receive chats and text messages, make calls and view voicemails, all from a single app, anytime, anywhere.
Extend your business phone number and extension to your cell phone, so you can make and receive calls on the go or even transfer calls from your desktop phone to your mobile device, seamlessly and without interruption.

All chat and SMS history from your desktop is synchronized with your mobile device, so you can stay connected and continue conversations wherever you are.

From your mobile device (Android®, IOS®) sync your contacts from popular third-party platforms (Office365®, G-Suite™ and more) with all your Elevate Apps.
Barlop Business Systems in Florida offers you the best remote work solutions with Elevate, the unified communications platform that integrates all your communication needs.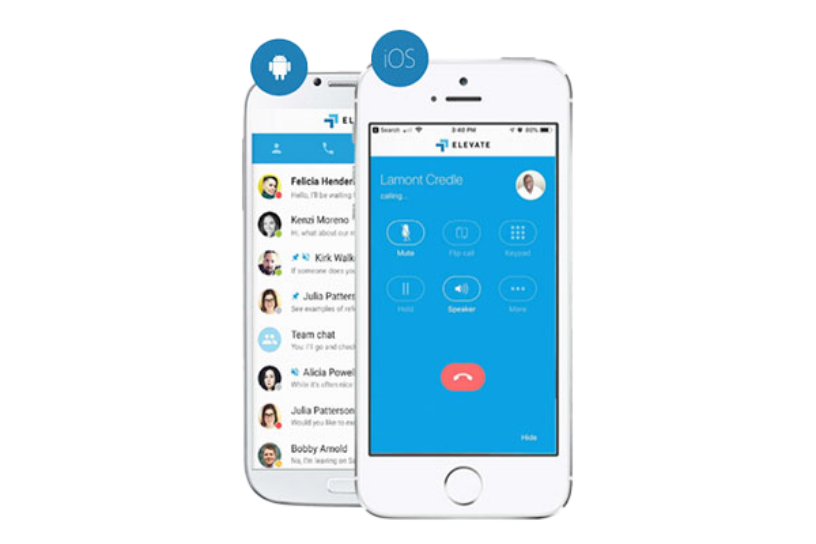 Video Conferencing & Screen Sharing
Elevate includes Online Meeting, an easy-to-use and reliable video collaboration tool.
HD video conferencing eliminates unnecessary travel and enables teams with remote members to be more productive.

The computer desktop can be shared with team members in real time, improving collaboration and speedy decision making.

Includes a conference dial-in number and customized URLs for meetings On-screen annotations to encourage meeting attendee participation.
Barlop Business Systems in Florida offers you the best business systems and business phones to take full advantage of Elevate, the unified communications platform that connects you to the world.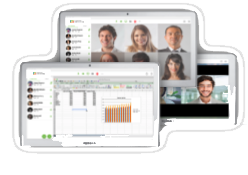 File synchronization and file sharing with backup for desktops, mobile devices and file servers.
The most current version of your files from any device.

Easy and secure file sharing.

Integration with Windows File Server, Exchange Email, Active Directory, Outlook.

Office and Office 365® – Full control over files, users, devices and sharing activities.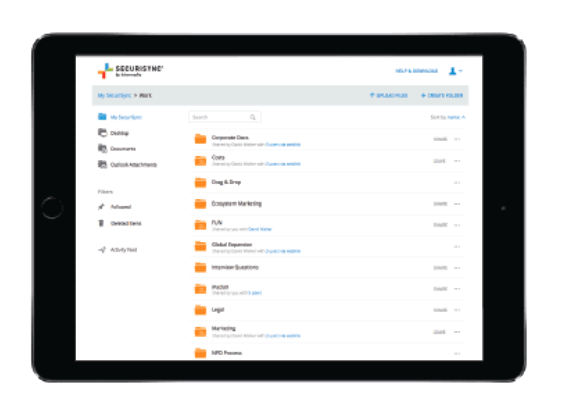 ELEVATE EXTEND | UNIFIED COMMUNICATIONS
Elevate Extend is a unified communications platform that connects powerful voice, chat, video conferencing and contact center functionality into everyday business applications like Google®, Microsoft®, Salesforce® and more – driving greater productivity and increasing customer retention without huge costs.
With Elevate Extend, you can enjoy the benefits of unified communications in your remote work solutions by integrating communications into the business systems you use every day. Whether you need to make a VoIP call, send a text message or start a virtual meeting, Elevate Extend lets you do it from your favorite applications with a single click.

Increase employee productivity
Integrate communications into everyday business applications across all teams to streamline business workflows and maximize employee efficiency. With Elevate Extend, you can access customer data, manage your tasks and collaborate with colleagues from any location and device.

No heavy IT investment
Our integrations are easy to use and easy to deploy, with no major training or implementation costs. Elevate Extend adapts to your needs and preferences, allowing you to customize your user experience and choose the integrations that work best for you.

Increase revenue and drive customer retention
Combine powerful communication capabilities with relevant customer data to ensure that sales and support teams have the right information at the right time. With Elevate Extend, you can improve customer satisfaction and loyalty by providing fast, personalized and professional service from your business phones or any other device.
Frequently Asked Questions
Unified Communications
They are the best integration mechanism in communication tools, which provide a large set of products on the same platform, which aims to increase the corporate purposes of the company and offers a unified solution to digital technologies.
The main purpose of this solution is to facilitate the exchange of information and ideas between people in a company, ensuring that everything is more effective and increases the corporate income of the company.
Unified communications today are key to productivity and adapted to the needs of the market, for any type of company, whether it is an SME or a large company, including self-employed professionals, since they must also work in collaboration with other companies, and professionals.
Learn more about elevate unified Communications | Downloads